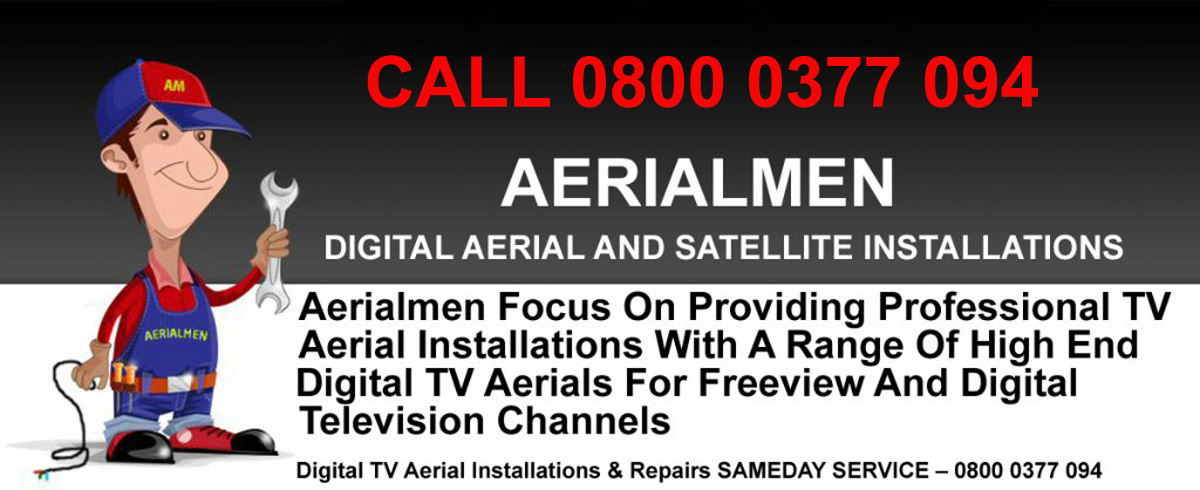 Freesat: – Free Digital TV for everyone
Freesat Provides:
Up to 200 FREE Digital TV Channels
Free High Definition TV Channels
200 Free Digital TV Channels By End of 2009
No Monthly Freesat Subscription or Charges
BBC IPlayer On Your TV (2009/10)
Free Direct Recording Of Your Favourite Television Shows (Freesat+ PVR Required)
Call AerialMen Today on 0800 3345296 To Get Freesat!
Looking to receive the latest in digital TV absolutely free? Then Freesat brought to you by the BBC and ITV could be the answer!
The Freesat system (launched spring 2008) has been developed to provide greater network coverage for the UK.  It has approximately 98% exposure. This means about 22 million UK households are able to receive the signal via a satellite dish and so providing an alternative digital viewing for those who are unable to receive Freeview currently. Furthermore, Freesat provides super fast digital text and enhanced digital interactivity, with access to the latest local, national and world news, live sports results and the local weather!
To help you make the most of what you want to watch, Freesat has a built in TV programming guide, providing you with up to date listings of when your favourite TV shows will be aired. There is also digital subtitles and audio description when available.
No Monthly Subscription!
Freesat, as the name suggests, is free. It has approximately 140 TV & Radio  channels already available, which will increase to around 200 free digital TV channels by the end of 2009.Freesat is a vision of the future, provide a superb alternative to the Sky Freesat system, which has been available for several years.
As opposed to the Sky Freesat system, you will not require a card to unlock the free channels, and the BBC has announced their system will remain free, forever. All you pay for is the system with installation!
Fantastic Picture Quality in Freesat HD
One of the most appealing features of Freesat is the offering of High-Definition technology on its range of TV channels, direct to your television. Providing you have a HD compatible digital television, and a HD Freesat receiver, you will benefit from the channel line up in glorious High Definition, providing greater, sharper and much more detailed pictures and vibrant colours
Pause, Rewind & Record Your Favourite TV Shows With Freesat+
Freesat+ has lately been launched, ensuring you will now never miss your favourite TV programmes again! Like Sky's own PVR (Personal Video Recorder), you will be able to pause, rewind and fast forward live TV, at the touch of a button. In addition, you will be able to record entire series of a programme on a channel of your choice. Recording programmes whilst you are not home. With this system, you no longer require tapes or recordable DVD's.  All your programming is stored directly onto the integrated hard disk drive on the receiver, so you can watch any of your programmes, whenever you want to. These hard drives can store up to 320 GB of data presently, which is around EIGHTY hours of free HD programming!
No Monthly Charges, No Minimum Contract, One Payment!
Remember, Freesat has no monthly charges, subscription or minimum contract. You only pay for the equipment and installation, both of which, AerialMen can provide for your viewing pleasure.
On Demand TV with BBC IPlayer
Freesat has been manufactured and produced with downloadable content in mind, meaning you, the viewer, can download and watch 'On Demand TV' at the touch of a button. Your Freesat satellite receiver will download and utilise the infamous BBC IPlayer, providing you access to the past seven days worth of viewing, so you can watch missed programmes and catch up on your favourite soap or TV shows!
All you require is a Freesat satellite receiver connecting to your internet/broadband connection to be able to utilise this service. It is expected that more news will be announced shortly as to a launch date for the IPlayer and Freesat collaboration.
What is Freeview?
Freeview is a digital TV service that allows you to watch over 40 TV channels via your TV aerial. No dish required no subscription, no ties, no contracts, and no installation costs*. Just buy a set-top box for free access to the Freeview channel line-up...
Call us today for a free home call out
Be it installation or repair, aerials or satellites, call to arrange a home visit and give you a free no obligation quote for the work. We guarantee all our work will be cheaper than the next company, and unlike them, we can begin work immediately.
AerialMen
Ditton's Bungalow
Ditton's Road
Polegate
East Sussex
BN26 6JA
Tel. 0800 0377 094